The STOP SOPA Mousepad




Buy Now $4.75 incl. Shipping

( Details)

Get a STOP SOPA mousepad to show your support and spread the word. It looks like this is going to be a long and hard battle, but the people are going to win.

Tell everyone you can to contact their congressman and/or Senators to let them know that we will not stand for this. Tell media companies ... More



*$4.75 ea includes FREE shipping & Handling (Up to 3 pads, call for more), if you order more than 3 pieces we'll try to accommodate based on availability.

---

   (MouseRugs)

Mouse pad company offering custom printed
mouse pads as promotional item
---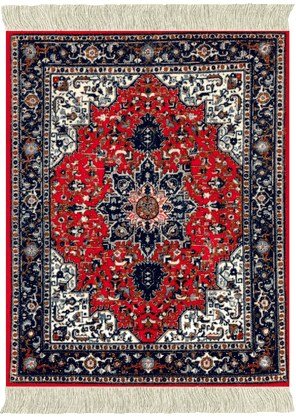 Here are the Oriental RugPads or Mouserugs, that you can buy as little as 1 piece. While custom printed pads might have minimum, all mousepads will help you or your company bring customers to your website over and over. Oriental Rugpads will be nice pads to use yourself or to send to others. They come complete with attached fringes, similar to real persian or oriental rugs. Mouserugs are a real conversation piece.
---
You might also want to try the Blank Flip Top pads, or the Make Your own pads to make custom mousepads. The flip top has a top surface that opens (See details) where the user can insert a sheet or a cardboard insert, while the "Make Your Own can be used to make custom mousepads similar to the process we use to make the professional Hard Top pads for companies.


---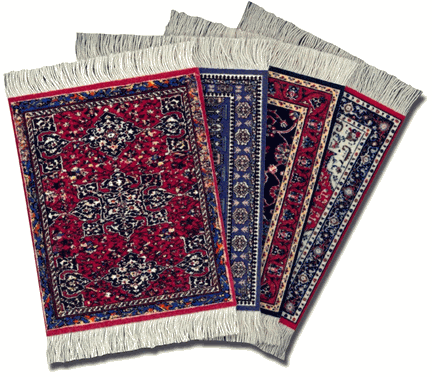 We now have Coaster Pads at Mousepad.com, they come in a set of 4. Mouse Pads are the center of today's digital world. The mouse pad is at the foot of the monitor. All that your customer needs to do is to look at the mousepad, a few inches away to remember your website address or other contact information.

---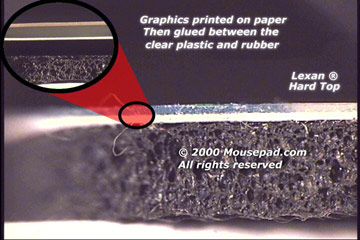 An average custom printed pad has 76 square inches of advertising space. Compared to other advertising items, it gives you a lot more message for your money! It does not take a rocket scientist to figure out the value of such long-lasting advertising. Look at the closeup of the natural non-skid rubber as the "Mouse pad Foot".
---
Hey ASI (ad specialty) members, all custom printed Mousepad designs are not the same. Please look at our selection and pricing. It is all made here in North America, U.S.A. and Canada. Take a look at all the custom Oriental rugpads, Blank Flip tops, Make your owns by following this link:
All Ready Made Mousepads



We carry every major mousepad design and can produce a custom printed design specially for you. Mousepad.com offers various types of pads which include Hard Plastic (Laminated) Top, Soft Cloth Top, the Flip Top Mousepad, Note Paper pads, Calculator mousepads, Oriental rug Rugpads, Make Your Own and many other types of mousepads.

Our objective is to help you achieve your online marketing goals by putting all our talents into fulfilling your order in a timely fashion. Mousepad.com is a preferred choice for high quality website advertising at a low wholesale pricing.

So go ahead and order custom printed mouse pads from our site at www.Mousepad.com. Your company address and information could be on your client's desktop, underneath their fingers, promoting your business right now! Let them find you, your product and your website through your mouse pad easily. Don't let finding your website be like finding a needle in a haystack. Start by Browsing Our Mousepad Catalog