Full Color Hard Plastic Top Mousepad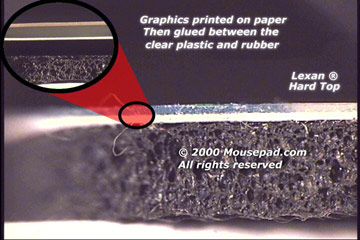 Full Color Hard Top Mousepad give the best photographic reproduction possible for a mousepad. Your graphics are printed on a sheet of high quality paper and then laminated under the clear plastic. The graphics cannot scratch off or wear off.The mouse movement is amazingly smooth. It is very easy to clean, as a matter of fact it can be wiped off using a damp cloth. It is a very impressive mousepad.

Any graphic that can be printed on paper can be produced in a Full Color LexanŽ Top mousepad.It will be a photo quality mousepad with continuous tones and shades. It is printed Using the CMYK process on an offset press, just like a brochure is printed, and then sandwiched between the clear plastic and the rubber to protect it. It will be as high a resolution as the graphics you send us.

Pricing Info Below
This is why we ask that you send scanned artwork at a minimum 300 DPI resolution. On the right you see a sample of an actual LexanŽ Top mousepad printed in full color.

For pricing, please look below in the charts. These pads are available in 4 thicknesses and a variety of sizes. So please find one that matches your needs. Just as a guideline, 1/16" is approximately the thickness of 1/2 of a
3 1/2" computer diskette*, 1/8" is (approximately) a little more than 1 diskette thick*, 3/16" is a little less than 2 diskettes thick*.


---
1/8" Thickness (Full Color LexanŽ Top)
Specification
Length x Width
Quantities
Mousepad
250
500
1000
2500
5000
7.5" x 8.5"
2.67
2.37
2.15
2.05
1.85
8" x 9.5"
2.77
2.47
2.25
2.15
1.90
8" Round
2.87
2.47
2.25
2.15
1.90
Print an order form (Click and Print when the new window pops up)
Request an Official Quote | Order form for Full Color Plastic Top Mousepad

---
3/16" Thickness (Full Color LexanŽ Top)
Specification
Length x Width
Quantities
Mousepad
250
500
1000
2500
5000
7.5" x 8.5"
2.87
2.57
2.35
2.25
2.05
8" x 9.5"
2.97
2.67
2.45
2.35
2.10
8" Round
2.97
2.67
2.45
2.35
2.10
Print an order form (Click and Print when the new window pops up)
Request an Official Quote | Order form for Full Color Plastic Top Mousepad
---
Setup for Full Color: $99.00 Flat Rate. (No Setup for orders above 1500 pads)